Le comparatif en anglais ( 2)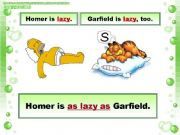 La comparaison : en utilisant AS..... AS :
Nous avons vu précédemment comment utiliser une comparaison simple.
Voici une autre forme de comparaison :
Exemple :
John is rich
He is richer than Paul
But he isn't as rich as Joe ( Joe is richer than he is)
A) On peut utiliser as…. as ( mais pas so…..as) dans les phrases affirmatives ou dans les questions :
- she got to the office as fast as she could ( aussi vite que...)
- Walking is just as quick as taking the bus ( aussi rapide que ....)
- You can eat as much as you like, there's plenty of food ! ( autant que.....)
- Can you phone me as soon as possible ? ( dès que .....)
-
B) En anglais nous disons the same as ( et non the same like)
- John is the same age as Paul ( même .... que....)
- John is not the same age as you ( n'a pas le même ... que...)
- I'll drink the same as you ( même que....)
Ce n'est pas très difficile en y regardant bien .
Exercice d'application :
1. It's warmer today than yesterday . It isn't …………………………………
2. The hotel is cheaper than i expected. The hotel isn't …………………………….
3. ( your hair/ same colour/ mine) : Your hair …………………………………………..
4. ( i arrived here / same time/ you) : ………………………………………………………….
5. ( you made / same mistake/ i made) ………………………………………………………….
6. I'm quite tall but you are taller : i'm not ………………………………………………………
7. I still smoke but i used to smoke a lot more. I don't …………………………………….
he blue car is the red car. (fast)
2) Peter is Fred. (not/tall)
3) The violin is the cello. (not/low)
4) This copy is the other one. (bad)
5) Oliver is Peter. (optimistic)
6) Today it's yesterday. (not/windy)
7) The tomato soup was the mushroom soup. (delicious)
8) Grapefruit juice is lemonade. (not/sweet)
9) Nick is Kevin. (brave)
10) Silver is gold. (not/heavy)
Voici un autre petit exercice trouvé sur ce site:ISLcollective.com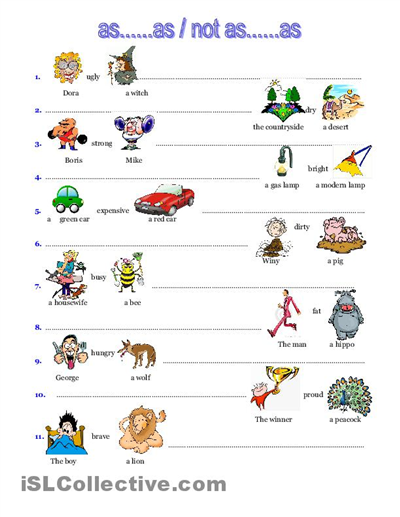 .